Ewok's Pack - WHAT's INCLUDED
The wet December, followed by a hot summer made for some beautiful fruit complexity and natural acidity. 100% handpicked Chardonnay on 18 February 2018. Delightfully fresh, with notes of citrus on the palate. Method-Traditionnelle disgorged August 2021 with a dosage of 3.5g/l. Perfect with seafood or that special celebration
2018
BLANC DE BLANC
Our 2019 Chardonnay is reflective of the hot and dry season. A more textural wine compared to the previous year, displays notes of tropical fruits and melon. Not overpowered by oak and influenced by partial-malolactic fermentation. This Chardonnay has potential to cellar for 10+ years and is best enjoyed at 7-10 degrees celsius Perfect with seafood or that special celebration
2019
CHARDONNAY
2020 was a very cool and wet year – perfect for Riesling! Fresh and lively; Stone fruits, lime and citrus notes with a fresh clean finish. Pairs perfectly with oysters.Perfect with seafood or that special celebration
2020
RIESLING
2020 was an extremely wet and cold year. If the pandemic wasn't enough, we lost 50% of fruit across both vineyards due to hail and stuck cap. With the limited fruit, we decided to go back to our beginnings and make a single vineyard Pinot Noir from our home block. It has all the usual cherry and strawberry characteristics (reminiscent of our 2017 Pinot Noir), forest floor complexity, yet far more delicate. 100% handpicked on April 20th 2020. Matured in seasoned French oak barriques & hogs heads (20% new). Made with 20% whole bunches and 10% Carbonic maceration. Hand bottled by gravity, without fining or filtration on 2nd February 2021. 189 dozen produced.
2020
PINOT NOIR
Stunning dark purple colour lives up to expectation with well-rounded dark cherries, blackberry and mulberry filling the palate. 100% machine harvested Cabernet Sauvignon on 16 Mar 2018. De-stemmed (10% whole bunch). Fermented and matured in a combination of aged french oak barrels (hogs-heads) 13.5% alc / 8.0 std drinks.
2018
CAB SAV
This excellent cool climate 'syrah style' wine, is highly aromatic and is set to enhance any evening or dinner party. Gorgeous deep plum and dark cherries are displayed, stylistically fruit driven with lovely soft tannin. Pairs beautifully with barbecued lamb or rich dark chocolate for dessert.
2018
SHIRAZ
Living on 82 acres of land and being fully surrounded by King Lake National Park, we are blessed by the number of native Australian animals we get to cohabitate with. One particularly special animal is the wombat, on a recent spotlighting one night we found 5 wombats grazing across 5 acres of our back yard and vineyard.
Being mostly nocturnal animals, it's rare to see wombats out during daylight hours, but in mid July we started getting a young wombat visit us every day.
He/she was super cute and from face on looked like an Ewok from Star Wars, so our son Sebastian quickly named it Ewok. Coming out in daylight generally means there is something wrong and sure enough with a few days we noticed some scabs and sores on its body. Having come across this before on a wombat we quickly realised Ewok was suffering from Mange. Mange is a skin disease caused by parasitic mites and a threat to our beloved wombats if untreated.
Since it is extremely itchy the wombat uses its very sharp claws or a tree trunk to scratch itself, often resulting in open wounds that can become infected and cause more suffering and death.
Through the help of mange management, a group of volunteers, we secured a manage treatment kit and got straight into treating Ewok. After 4 weeks of treatment we are seeing majority of scabs have dropped off and new hair is starting to grow back on Ewok's side. Although we love seeing Ewok everyday, with a few more treatments we hope to not see them again, which means the treatment has worked and Ewok has returned to night time feeding as a healthy wombat.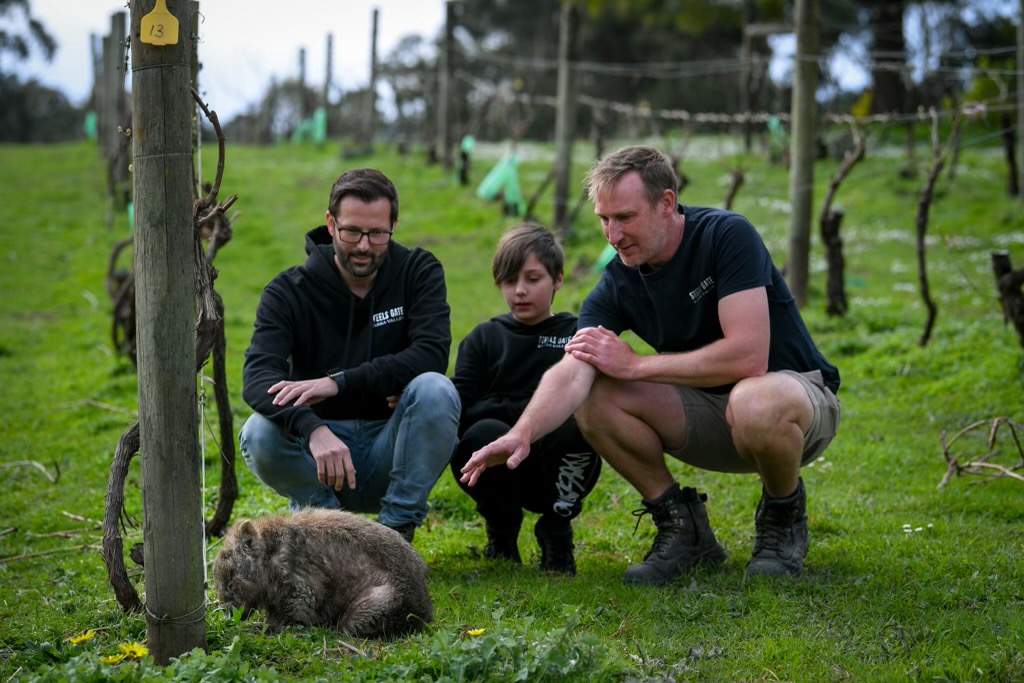 We came to within 1m of Ewok before being growled at.
Our Kelpie Pippin usually politely asks wombats to depart our property when she comes across them, but Ewok has told her otherwise and so Pippin leaves Ewok to eat happily alone.
Ewok has taken residence inside our dog kennel when tired between daytime feeding.
Ewok hates storms as much as many people and pets!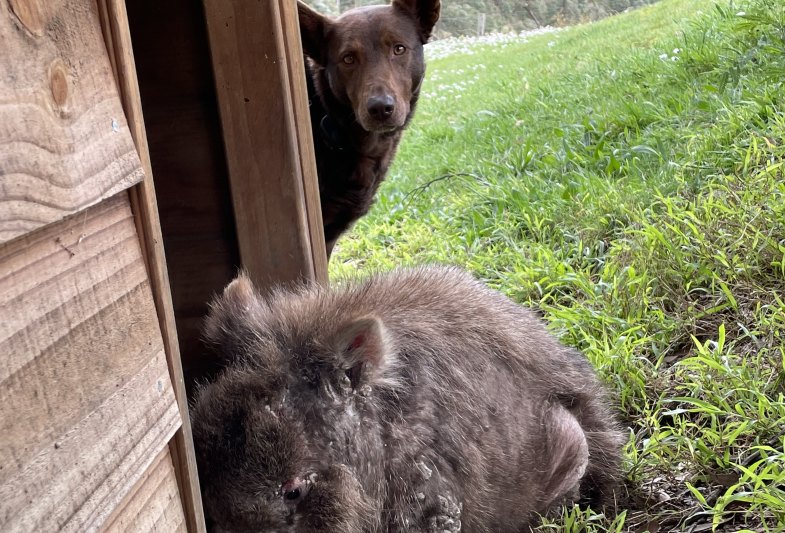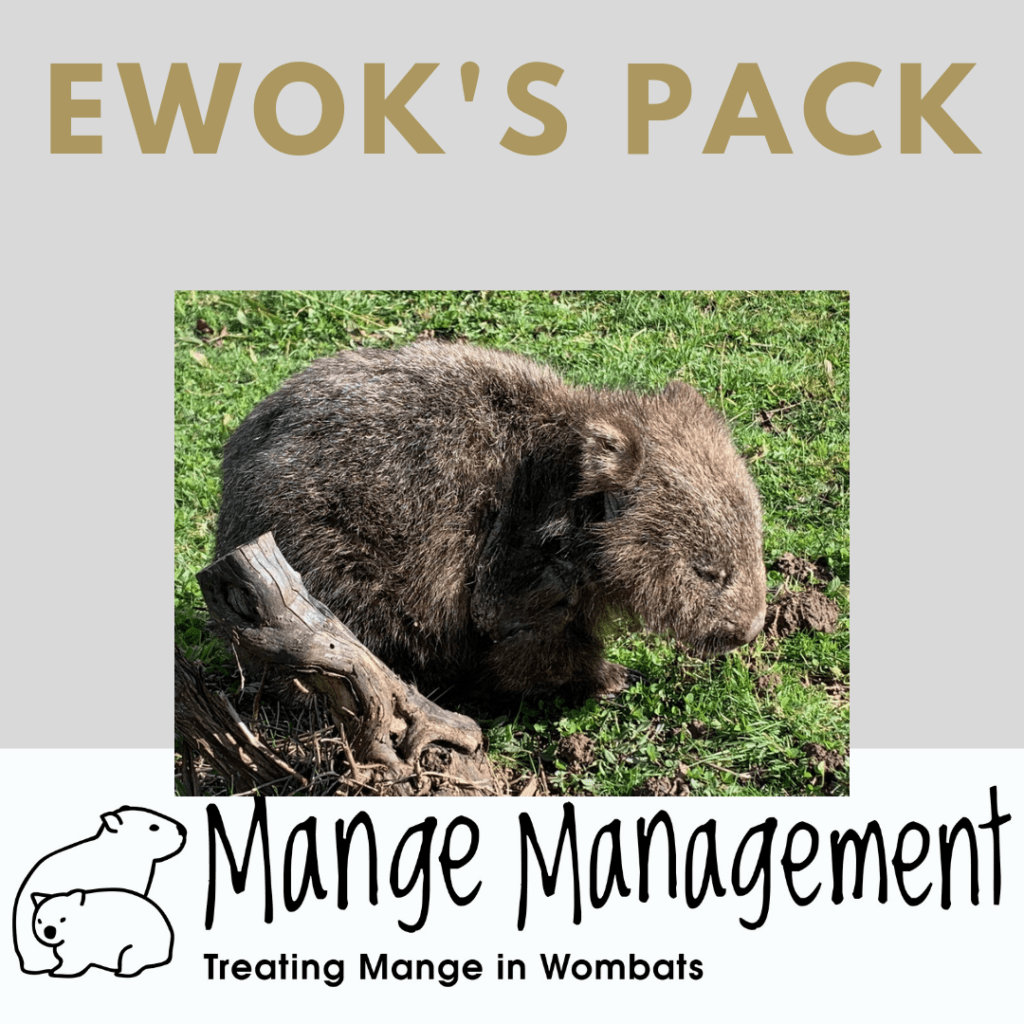 $30 form every pack sold going to the Manage Management Group
Thank you to all that have purchased an Ewok's Pack so far. Your generosity is greatly appreciated. If you would like to contribute to the Mange Management Group and enjoy wine, please consider the Ewok's Pack. You won't be disappointed!